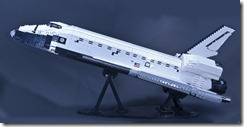 Over the last year, I've (very slowly) been working on a LEGO model of a NASA Space Shuttle. It's finally finished, or as much as it will be. I need to move onto other things now.
It's about 38" long. I have no idea how many pieces—many thousands because every surface is tiled over. The flaps and rudder move and the cargo bay opens up to reveal a detailed interior.
You can see it on BrickShelf or MOCPages.
I've started thinking about my next model, but haven't done anything beyond prototyping. I've got other projects at the moment, so it will probably be a long time before it's done.