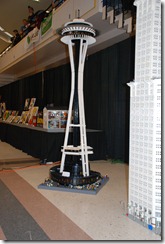 If you're in Seattle this weekend, BrickCon 2009 is going on, and I'll be participating for the first time, displaying my Space Shuttle model.
The convention has more space than ever this year: 35,000 square feet.
The public hours are Saturday and Sunday, 11am-3pm. It's only $7 per person (or max of $20 per family) and you don't want to miss the amazing models that will be there.